We make the claim that we are the diet company that wants our clients to STOP dieting. Sustainable weight loss is everyone's goal – YOURS and OURS!  Each step of our program is helping you develop sustainable habits that prepare you for non-diet life.
While you are losing weight, you are:
Eating balanced

Eating delicious whole foods

Getting back to proper portion sizes and control

Establishing B.B.P's (Best Body Practices)

Making it a habit to stay hydrated

Learning how to properly supplement your body's needs
All of these things are the foundation of EVERY client's journey as they go through our program. 
When you come off Breakthrough M2, you are truly embracing WELLNESS!  BOOM – drop the mic beautiful peep! 
Let us help you lose weight and make this the LAST diet you ever do!
Click for more info about our 4 Pillars of Success!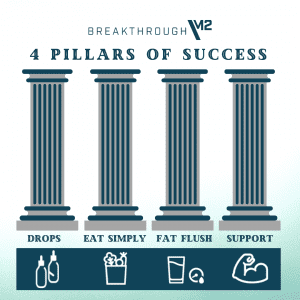 Click here to schedule your FREE phone consult!